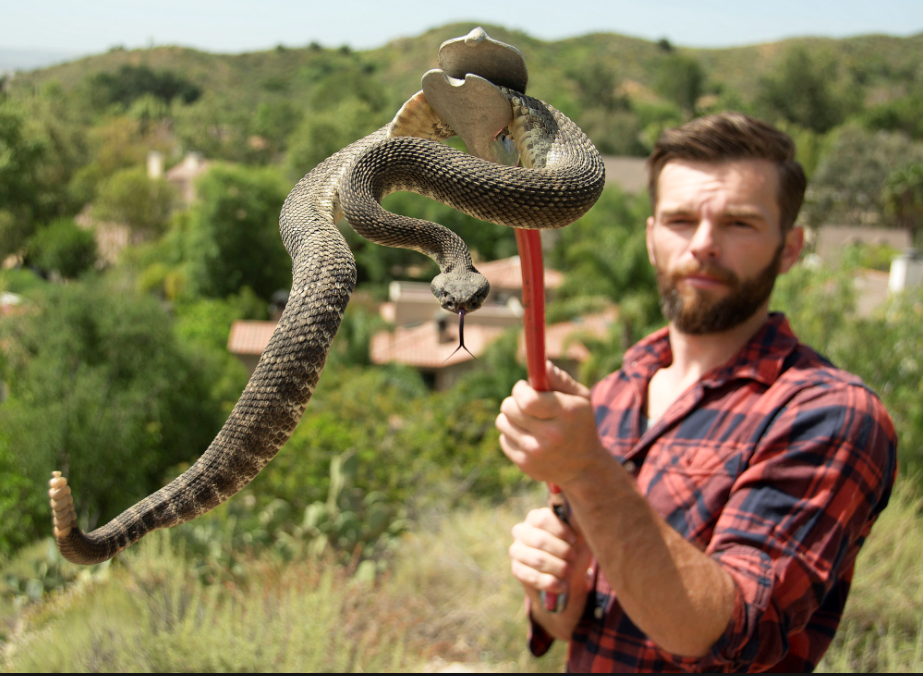 Betsy (sans Rizzo)
I'm the happy owner of an emotional support rattlesnake. I've endured years' worth of painful inoculations to protect myself against her venom, but it was all worth it. Seeing other people quake with fear as my rattlesnake sits in my lap, hisses, exposes her fangs and shakes her tail menacingly, brings me no end of emotional relief.
You see, flying scares the hell out of me, and as they say, misery loves company, so sharing a sense of terror with other passengers makes the experience a little more tolerable.
Now there is a down side to this. I've found that bringing a pet rattlesnake on board an aircraft can be a little difficult at times, particularly when I need to get her back into her cage in preparation for landing.
Betsy is well trained but sometimes she gets fussy and refuses to slither back into her carry on pet cage. Clearly, she misses Rizzo, her emotional support pet rat, which she needs since my wild and unpredictable mood swings turn her into a nervous wreck. I feel her pain, but bringing 2 animals on board with me is just too much hassle, as she quickly loses interest in her toy pet rat. I hate making an embarrassing scene with her, but sometimes it happens.
A couple years ago, on a long haul flight from LA to Sydney, I fell asleep while she was resting comfortably on my lap. I was startled awake by a series of piercing screams from a whole bunch of people in the rows behind me. Betsy was slithering down the aisle at high speed, probably chasing after the aromas emanating from the food cart about 30 feet behind me. It was hard for me to suppress my laughter, but as you can imagine, no one else thought it was very funny. I've outfitted Betsy with a custom made and very official looking emotional support collar. It doesn't really convince a lot of people and tends to fall off rather easily. My attorney assures me that it looks convincing enough to deter potential lawsuits, but I have to suspect his motivations. He's as terrified by that snake as much as anyone else, but at $750.00 per hour, he has a pretty good incentive to work with me. Sure, he's pricey, but scaring the hell out of an attorney is a barrel of laughs.
Now, I can relate to the passenger who needs an
emotional support peacock
. I like animals of all kinds but given my frame of mind, I need a larger and more intimidating bird, like say a bald eagle or a giant condor. I'm watching this story closely. I'm sure a bird would be much easier to bring on board an aircraft than Betsy, as much as I love her.
Having said all that, here's a frightening, real life
story
that got out of control. An emotional support Rottweiler or Pit Bull is just over the top.